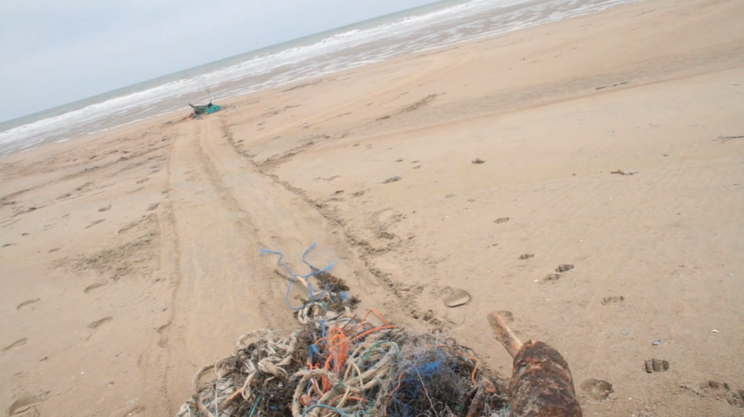 Maria Montesi
A conversation between cinema and contemporary art
with Alessandra Laitempergher and Massimo Benvegnú
Wednesday, March 14 at 8 pm
Born in Italy in 1988, Maria Montesi is an artist and film-maker currently living and working in Amsterdam. Her studies include a BA in Visual and Performing Arts at IUAV of Venice, a MA in Visual Anthropology at Goldsmith's College of London and (currently) a MA of Voice at Sandberg Institute of Amsterdam. Her recent interest focuses on the place of voice and storytelling in the practice of film-making. Among her group and solo shows are TU35, Museo Pecci - Prato (It), Nation25. The Nationless Pavillion at S.a.L.E. Docks in Venice, SLACK Deux-Caps Art Festival (Fr); Entre-temps, at Espace Le Carré, Lille (Fr), Achemar at Gare Saint Sauveur, Lille (Fr); Open Studios at FKSE - Budapest (Hu), Studio 43, Dunkerque (Fr); La Fungaia / Screening at "12 Ballads for the Huguenot House" by Theaster Gates, dOCUMENTA(13) (Ge), MA Visual Anthropology: Final Film Screening at The Horse Hospital of London (U.K.); Anzitempo, Miami (US).

Selected Films
India Song (Marguerite Duras 1974)
Dis Moi (Chantal Akerman 1980)
Re-assemblage (Trinh T. Minh Ha 1982)

--

Alessandra Laitempergher (Bolzano, 1971) lives and works in the Netherlands.
Curator and responsible for Exhibitions and Education at Beelden aan Zee Museum (Den Haag) since 2004, she's specialized in contemporary sculpture.

Massimo Benvegnú (Padova, 1972) lives and works in Amsterdam.
Journalist and film critic, he has collaborated with the Venice and Locarno Film Festivals. Since 2011 he works at the Eye Film Institute Netherlands in Amsterdam as part of the programming team.

Marco Nember (Brescia, 1977) is founder and director of Blue439 Foundation. He's based in Amsterdam since May 2009. He collaborated with Italiaans Cultureel Instituut (Amsterdam), Goethe Institut Niederlande (Amsterdam), Kunsthuis SYB (Beetsterzwaag), Kunstverein (Amsterdam and Milan), De Appel Arts Centre PS (Amsterdam), Vlaams Cultuurhuis De Brakke Grond (Amsterdam) and Museum Beelden aan Zee (Den Haag).
Curated by Marco Nember.
Developed in collaboration with the Italian Institute of Culture in Amsterdam in 2018.