STEFANO CAGOL
FIGHT OR FLIGHT / VOGELGRIPPE KUHLRAUM
17.12.2011 / 12.04.2012
The animals, when they feel threatened, don't know whether to attack or fly away. From this reaction to fear - called in English Fight or Flight – the artworks and the show keep the title. The oxymoron becomes a slogan of survival in a banner facing a symbol that contains the memory of one of the most unexpected reactions of the last century to physical and mental borders, to a situation of threat: the massacre of Monaco. The spiral of black and white keys – archetypal symbol that evokes representations related to the first practices of psychoanalysis and hypnosis – are the symbol of the Summer Olympics of '72 that were held in Germany
and have been interrupted by the terrible massacre of the Israeli representative acted by Black September, a Palestinian organization.
Other cross references and metaphorical remarks are shown in the videos that document the projects where the artist focused his attention on the idea of FLU (influence).
When there was fear of bird flu in Europe, a van marked with the name of the virus in both English and German – 'BIRD FLU' and 'VOGELGRIPPE' – along the route across Europe from Trento to Berlin, stopped by influential places: the cathedral of the city of the Council of Trent, a fascist monument in Bolzano, the Nazi Zeppelin Tribune in Nuremberg. This way of seeing it through fears, influences and power also took the shape of the installation FLU POWER FLU at the Beursschouwburg Kunstencentrum in Brussels.
A large neon sign slowly alternates combinations of the words FLU POWER FLU, FLU FLU and POWER. The slogans start with nonsense to trigger a reflection on the ideas of authority and influence/influenza. They do this by blinking from the façade of a Flemish cultural center. The site and the installation represent a landmark in front of the Stock Exchange building in the centre of the capital of the European Union, in the city of Nato.

Text by Stefano Cagol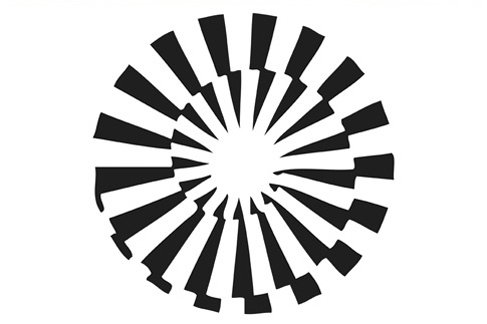 Vogelgrippe Kuhlraum

The cultuurpark Westergasfabriek, the unique industrial heritage designated to be a permanent place for art and contemporary creative energy in Amsterdam, is pleased to host a public art installation by Italian artist Stefano Cagol, who just ended his solo show at San Gallo church as part of the Venice Biennale.
A fridge is relocated in the green of the park. It symbolically contains the sound of the G8 nations' anthems mingled with the sounds of different breeds of birds.
The installation was presented for the first time in Ghent in 2006, in the moment of greatest uproar in Europe over bird flu (Vogelgrippe in German and Vogelgriep in Dutch). On that occasion the fridge was located in a zoo, but it did not dominate amidst the animals in cages, but among menacing plastic Tyrannosauruses: that show, titled Zoo Logical, was curated by Angelique Campens at Harry Malter Park.
Now, in the middle of the economical crisis, the western culture crisis, the capitalistic world crisis, the mix of national anthems and birds songs spread by the fridge finds new meanings more…
Stefano Cagol's research – documented in a brand new wide monograph edited by Charta – faces socio political balances and their interpretation by media that influences public opinion.
The cultuurpark Westergasfabriek is a 14-hectare permanently designated cultural zone in Amsterdam. Creative entrepreneurs work in the renovated historic buildings and many high-profile events and festivals are held here. So the Westergasfabriek is regarded as a model for redevelopment, far beyond the Netherlands' borders.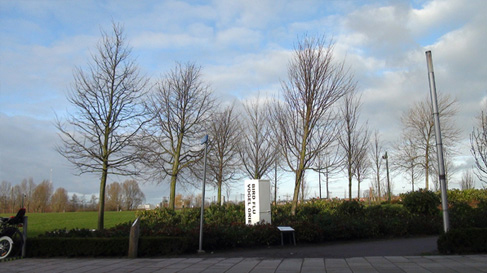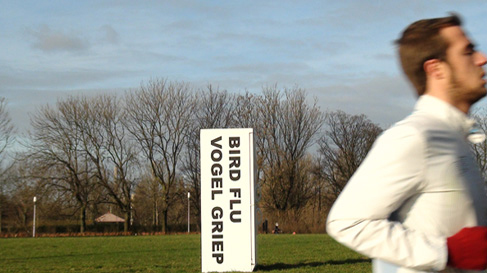 Biography

Stefano Cagol, was born in Trento, lives and works in Trentino South Tyrol and in Brussels. Recipient of Terna Prize 02 for Contemporary Art, he was recently artist in residence at International Studio and Curatorial Program (ISCP) in New York and at BAR International by Pikene på Broen in Kirkenes, Norway. He held solo shows and projects at 54th International Art Exhibition – la Biennale di Venezia, ZKM | Center for Art and Media Karlsruhe, Kustraum Innsbruck, Manifesta 7, Beursschouwburg Kunstencentrum in Brussels, 1st Singapore Biennale, and Mart – Museum of Modern and Contemporary Art of Trento and Rovereto.

Website: www.stefanocagol.com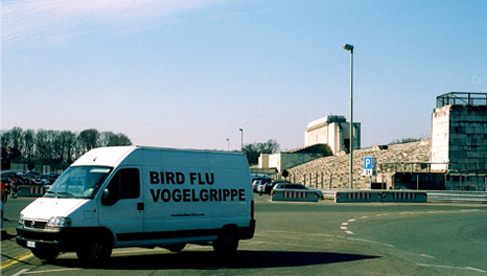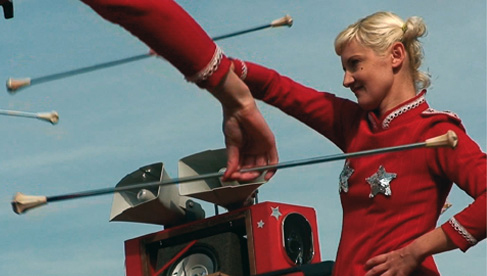 On Screening:
Bird Flu Vogelgrippe (dvd, 60', 2006)
Brussels Trilogy: Flu Power Flu / War Game / Manifesta (HD, 18', 2007)

The first and only case of bird flu in Berlin is documented in a collection – that became part of the project – of front pages of Berlin newspapers with alarming headlines: 'Vogelgrippe in Berlin' avian influenza in Berlin. It is an example of how newspapers emphasized this kind of news, in a climate that created a real pandemic panic in Europe. These headlines came just on March 25, 2008—a day after the arrival of Stefano Cagol's BIRD FLU VOGELGRIPPE van in Berlin ...
The series of video that are part of the Brussels Trilogy were captured sudden actions happened in front of the Public Art intervention FLU POWER FLU in Brussels during the days of its installation.
The video War Game captures a feminine military march. Emphasized by the slow motion, it is accompanied by an electronic voice, hypnotic and obsessive, repeating English words of three letters (diverse and opposite to each other like 'war,' 'sex,' 'lab' ...) combined with the word 'game' to create ambiguous oxymorons, like the ambiguous attraction to war. The video Manifesta captures a orderly political demonstration marching in front of the installation FLU POWER FLU and in front of the Stock Exchange building. The video FLU POWER FLU documents a spontaneous and ephemeral parade on skates running along the street enlightened by the neon writing.

Selected Films:
La caduta degli Dei (Luchino Visconti 1969)
Indagine su un cittadino al di sopra di ogni sospetto (Elio Petri 1970)
Dawn of the Dead (George A. Romero 1978)


---


Curated by Marco Nember.
Developed in collaboration with
the Italian Institute of Culture in
Amsterdam between May 2009
and September 2013.