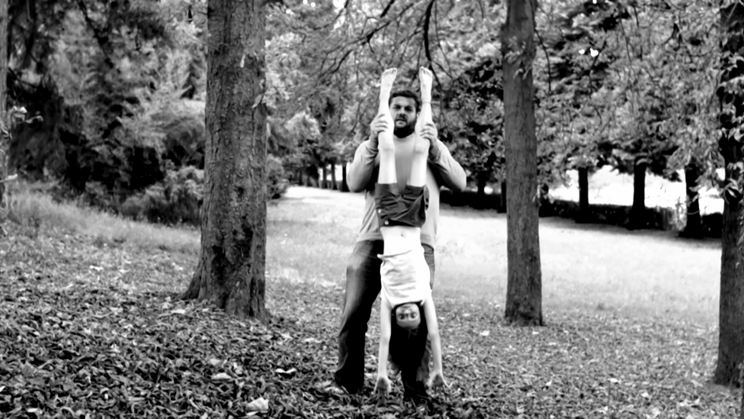 Rä di Martino
A conversation between cinema and video art
with Lorenzo Benedetti and Massimo Benvegnú
Thursday, December 11 at 8:30 pm

Rä di Martino (Roma, 1975) studied at Chelsea College of Art and the Slade school of Art in London before moving to live in New York between 2005 and 2010. She has shown nationally and internationally in institutions like Tate Modern, London; PS1-moma, NY; Palazzo Grassi, Venice; GAM and Fondazione Sandretto Re Rebaudengo in Turin; MACRO and MAXXI in Rome; NIMK, Amsterdam; MCA, Chicago; Bronx Museum, NY; Artists Space NY; Kunsthalle Athena, Athens; Museion, Bozen; Magasin, Grenoble; HangarBicocca & PAC in Milan. She was included at Manifesta7, at the Busan Biennal and the Turin Triennal and has participated to many International Film Festivals including KunstFilmBiennale, Viper Basel, Transmediale04, New York Underground Film Festival, Locarno Film Festival, Kassel Video & Doc Festival, Impakt Film Festival, Torino Film Festival and more recently to the Venice Film Festival winning the SIAE Award and the Gillo Pontecorvo Award. She currently lives and works in Torino, Italy.

On Screening
August 2008 (16mm film, 5', 2009)
The Picture of Ourselves (HD Video, 1'56'', 2014)
Authentic News of Invisible Things (HD Video, 8', 2014)

Selected Films
The Night of the Hunter (Charles Laughton 1955)
8½ (Federico Fellini 1963)
The Swimmer (Frank Perry 1968)

Website:
www.radimartino.com

--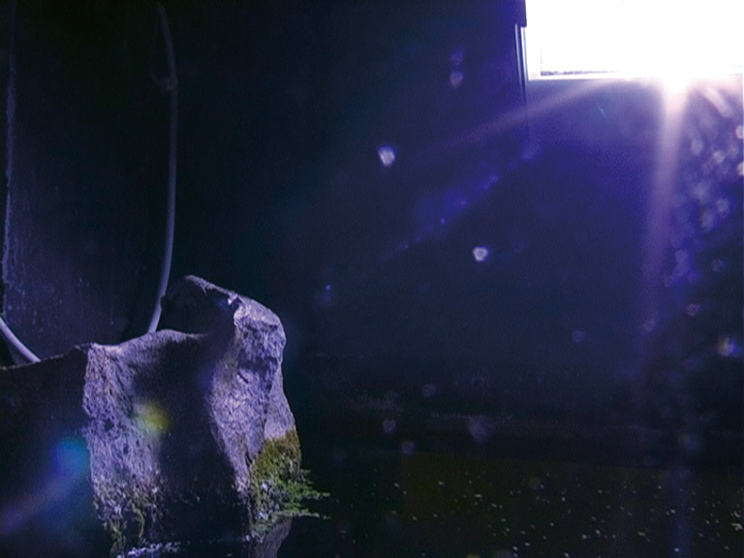 Giovanni Giaretta
A conversation between cinema and video art
with Lorenzo Benedetti and Massimo Benvegnú
Thursday, September 18 at 8:30 pm

Giovanni Giaretta (Padova, 1983) lives and works in the Netherlands and Italy.
Currently at De Ateliers in Amsterdam, after residencies at the Centre International d'Accueil et d'Echange des recollets - Dena Foundation for Contemporary Art in Paris and at MACRO in Rome, in 2010 and in 2012.

"Untitled (Portrait study)" documents the relationship between an entomologist with a few different species of butterflies. The gestures and the experience of an entomologist create a narrative between scientific description, language of play and a choreography. "Dans la Balaine" was filmed inside the engine room, which manages all the tanks in Milan Aquarium: a laboratory with blue lights, some details of natural landscapes and mountain peaks lit by cold neon lights. "An Inaccurate Distance" is an attempt to grasp the relationship with the distance of the translator Riccardo Bertani. Bertani worked as a farmer all his life and has never visited the countries of which he wrote. The camera tries to portray the intimacy of the house of Riccardo Bertani and look for a distance inside his domestic space.
On Screening
Dans la Balaine (MiniDv, 08'25", 2011)
Untitled (Full HD, 13'21'', 2012)
An Inaccurate Distance (Full HD, 15'22'', 2014)

Selected Films
Toute la memoire du monde (Alain Resnais 1956)
Stendalì suonano ancora (Cecilia Mangini 1960)
Starcrash (Luigi Cozzi 1978)

Website:
www.giovanigiaretta.com

--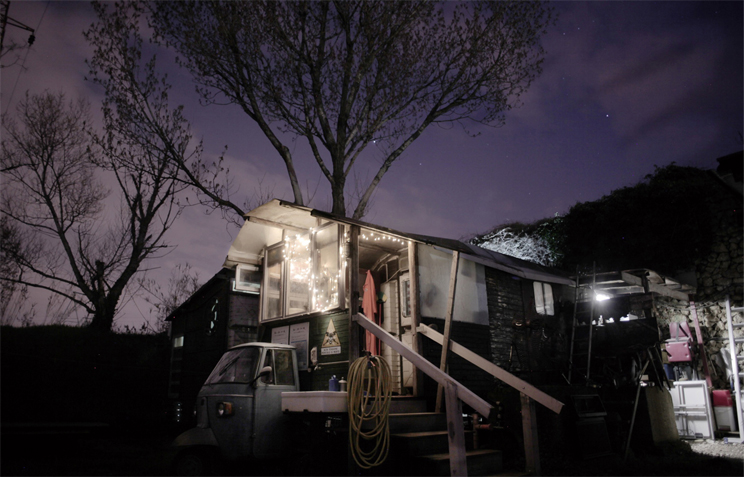 ZimmerFrei
A conversation between cinema and video art
with Lorenzo Benedetti and Massimo Benvegnú
Thursday, June 26 at 8 pm

ZimmerFrei is a collective of artists (Massimo Carozzi, Anna de Manincor, Anna Rispoli) based in Bologna and Bruxelles, whose complex practice is located on the crossways of cinema, theater, music and performance. Mixing formal languages, the group produces kaleidoscopic sonic and visual works that investigate real and imaginary urban environments, where the mental and the physical blend in a coherent narrative of human experience.

"Hometown | Mutonia" is a documentary about the camp founded twenty years ago by Mutoid Waste Company - a group of cyber-punk travellers and sculptors - in Santarcangelo, a medieval town in the hinterland of Rimini (IT). Mutonia is a city within a city, a village within the village, a temporary city in transformation, in relation to a greater urban, rural and social life. The "field of Mutoid" risked to be dismantled and to disappear, but fortunately it found the necessary energy and support to enhance its uniqueness in terms of community, way of living, relationship with the land, cultural history and experimentation in production.
The ZimmerFrei's film is set across the field and brings out the complexity, originality, fragility, common history and character of its individual inhabitants, belonging to three different generations. The film is part of the series 'Temporary Cities' (Rome, Milan , Brussels, Copenhagen , Budapest , Marseille): "The city is the only character in the film. The city lived with the body, consumed every day; an imaginary city that is formed within us and makes us feel to be in that place. Here we are. It's time to go home."

On Screening
Hometown | Mutonia (Full HD, 63', 2013)

Selected Films
The Passenger (Michelangelo Antonioni 1975)
The Wild Blue Yonder (Werner Herzog 2005)

Website:
www.zimmerfrei.co.it

--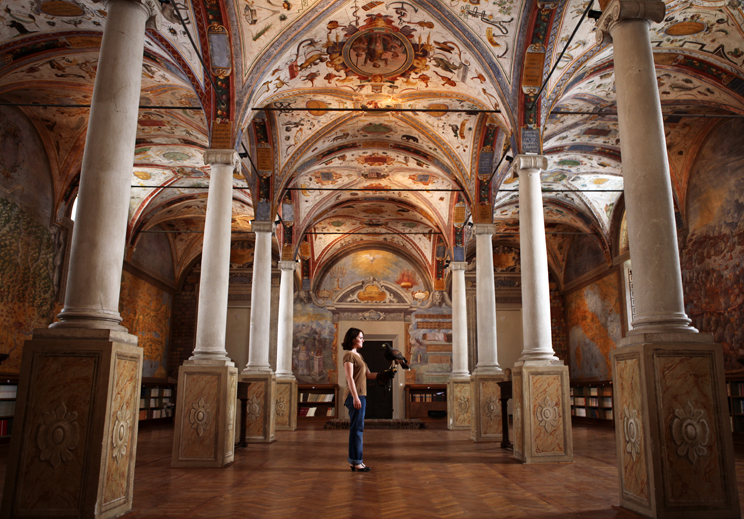 Francesca Grilli
A conversation between cinema and video art
with Lorenzo Benedetti and Massimo Benvegnú
Thursday, April 10 at 8:30 pm

Francesca Grilli (Bologna, 1978) lives and works in Amsterdam and Italy.
Winner of the International Prize for Performance in 2006. Since 2008, she joined the Fies Factory - Centrale Fies. In 2013 she was selected for the exhibition 'Viceversa' curated by Bartolomeo Pietromarchi for the Italian Pavilion of the 55th edition of the Venice Art Biennale.

On Screening
Gordon (16mm film on DVD, 7'07'', 2007)
The Fourth Conversation (16mm film on DVD, 2008)
Oro (16mm film on DVD, 8'40'', 2011)

Selected Films
Picnic at Hanging Rock (Peter Weir 1975)
Anna (Alberto Grifi & Massimo Sarchielli 1975)

Website:
www.francescagrilli.com

--


Lorenzo Benedetti (Roma, 1972) lives and works in the Netherlands and France.
From June 1, 2014 he's the new director of De Appel Arts Centre in Amsterdam. Lorenzo Benedetti was the director of Vleeshal of Middelburg since 2008 and he curated the Dutch Pavilion at the 55th edition of the Venice Art Biennale in 2013.

Massimo Benvegnú (Padova, 1972) lives and works in Amsterdam.
Journalist and film critic, he has collaborated with the Venice and Locarno Film Festivals. Since 2011 he works at the Eye Film Institute Netherlands in Amsterdam as part of the programming team.

Marco Nember (Brescia, 1977) is founder and director of Blue439 Foundation. He's based in Amsterdam since May 2009. He collaborated with Italiaans Cultureel Instituut (Amsterdam), Goethe Institut Niederlande (Amsterdam), Kunsthuis SYB (Beetsterzwaag), Kunstverein (Amsterdam and Milan), Vlaams Cultuurhuis De Brakke Grond (Amsterdam) and Museum Beelden aan Zee (Den Haag).
Curated by Marco Nember.
Developed in collaboration with the Italian Institute of Culture in Amsterdam in 2014.