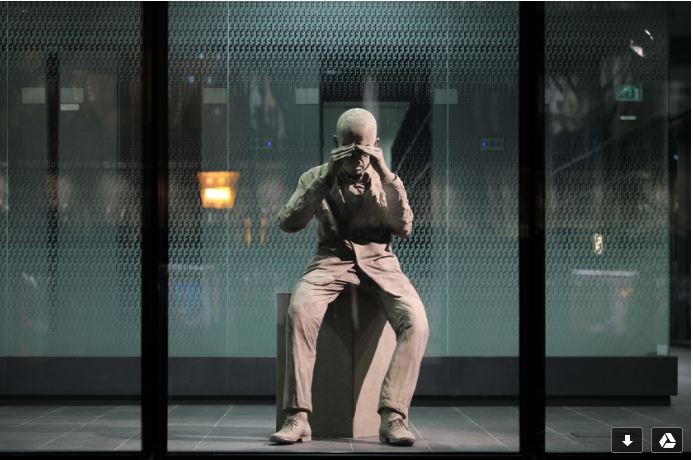 Diego Tonus
Book launch of Fragments of a Conversation with a Counterfeiter
In conversation with Huib Haye van de Werf
Tuesday, October 8 at 8 pm

Diego Tonus in conversation with curator Huib Haye van der Werf, will present the exhibition and the new publication titled Fragments of a Conversation with a Counterfeiter, a project winner of the third edition of Italian Council (2018), a competition ideated by the Directorate General for Contemporary Art and Architecture and Urban Peripheries (DGAAP) – organ of the Italian Ministry of Cultural Heritage and Activities, to promote Italian contemporary art in the world.
This presentation is thought as final step of the exhibition Fragments of a Conversation with a Counterfeiter by Diego Tonus, curated by Huib Haye van der Werf and promoted by Jan van Eyck Academie and STROOM Den Haag. The conversation will evolve around the new publication published by Roma Publications Amsterdam and the show presented in the cities of Maastricht and The Hague (1 March – 24 May 2019) for the occasion of the Italian Council Award. The series Fragments of a Conversation with a Counterfeiter entered the permanent collection of the MAMbo Museum, Bologna (Italy).
Tonus will present his artistic practice and this latest body of work that contributes to a discussion about the transformation and transportation of value, questioning the valorisation of time and space in time of crisis. The series Fragments of a Conversation with a Counterfeiter derives from an assumed conversation between Diego Tonus and a forger revealing controversial thoughts related to contemporary systems that deal with the definition of value. Each artwork is the visual translation by the artist of this supposed conversation. Tonus approaches the thoughts of the counterfeiter as if they were his intellectual property, questioning the 'counter' of counterfeiting and appropriating his ideas. In order to share the appropriated forger's ideas with the international audience, to activate and perform them, the artist has registered the works as trade secrets at the Benelux Office for Intellectual Property. The validity of the trade secret is international and lasts 10 years.
With the collaboration of: Ministry of Finance Den Haag; Leon Martens Juweliers Maastricht; Schaap en Citroen Juweliers Den Haag; IUAV University Venice in collaboration with Stefano delle Monache and Maximiliano Romero; In association with Casa Verga (Catania). Special thanks to Dr. Cornelia Lauf, Giuseppe Catalano di Melilli and Dr. Santa Sorbello; Fondazione ilCartastorie - Banco di Napoli Historical Archives (Naples) in collaboration with Flip Project.
Diego Tonus (b.1984, Italy)
Within his artistic practice, Diego Tonus focuses on reproduction as a tool of investigation to question control systems and power structures by transforming images, objects and collective experiences he selects, in order to put them in a new process of thought and present their underlying structures of codification and normativity. Either working with video or journalistic writing (whereby editing allows the re-telling of an individual experience by altering it), voice (wherein precise pitch and modulation techniques influence listener's unconscious reaction), performance or sculpture (wherewith a specific subject and its history are questioned through the presentation of their new originals), the research of Diego Tonus analyses the balance between narrative's modes and the content, showing or revealing how much narrative structure is, above all, an instrument of influencing and manipulation of both the public and the object.
Solo shows and presentations at STROOM Den Haag (2019); Van Eyck Maastricht (2019); Ellen de Bruijne Projects (2018); ar/ge kunst Kunstverein Bozen (2017); Stedelijk Museum Bureau Amsterdam (2013) and Danish Pavilion, Giardini Biennale Venice (2011). He participated in numerous group exhibitions including at the Kasteel d'Aspremont-Lynden (2019); Moscow Biennale (2018); Saal Biennal, Tallin (2017); 16th Rome Quadrennial (2016); WIELS, Brussels (2015); De Appel (2015); Van Gogh Museum (2015); CCA Singapore (2014); Palais de Tokyo, Paris (2013); Fondazione Sandretto Turin (2013) and Kunstverein Nürnberg (2013). His films were presented internationally including at the Hammer Museum, Los Angeles (2016); Whitechapel Gallery, London (2015) and Kunsthalle Gwangju (2011). Tonus has been awarded residencies at Van Eyck Maastricht (2017); at WIELS, Brussels (2014) and Spinola Banna Foundation, Turin (2011) among others. Tonus has been nominated for several awards including the Italian Council – MiBAC (2018); Performance Award, Trento (2015) and Furla Foundation Art Award, Bologna (2012). Among his publications: Five Cases of Intrusion (Archive Books); I, the Dog of my Master (Mer.Paper Kunsthalle); The Presidents' Hammers (Roma Publications Amsterdam).
The artist is supported by Mondriaan Fonds Amsterdam.
--

Marco Nember (Brescia, 1977) is founder and director of Blue439 Foundation. He's based in Amsterdam since May 2009. He collaborated with Italiaans Cultureel Instituut (Amsterdam), Goethe Institut Niederlande (Amsterdam), Kunsthuis SYB (Beetsterzwaag), Kunstverein (Amsterdam and Milan), De Appel Arts Centre PS (Amsterdam), Vlaams Cultuurhuis De Brakke Grond (Amsterdam) and Museum Beelden aan Zee (Den Haag).
Curated by Marco Nember.
Developed in collaboration with the Italian Institute of Culture in Amsterdam in 2019.
Previous Editions (2018 - 2017 - 2016 - 2014 - 2013).